Read More
Philanthropy
I am compelled to contribute to the welfare of others and believe my assets put me in a position to do so.
As an entrepreneur and business owner, I am passionate about giving back to the community by helping local organizations. My goal is to see Arizona's local communities thrive.
I also provide support to humanitarian organizations that are working to improve the future of mankind, specifically through fighting the effects of aging to help people live longer, healthier lives.
I continue to look for organizations and projects that I can further support with my time, influence, and resources.

Read More
Technology
Technology is the future.
My work in technology targets a variety of avenues in research and development. Developing mobile apps, desktop software, gaming software and devices that embrace connectivity and the power of technology to improve the human condition and bring a little more ease and enjoyment to daily life.
I am always looking for new ways to use technology to our advantage, and carefully study technology infrastructure for potential trends. As a futurist, I work with businesses and individuals to point them in the right direction as they plan and develop cutting edge technical advancements.

Read More
Investment Opportunities
Starting a business, creating a new product, or launching a new idea are rarely a simple process. It starts with a great idea, but that is just the beginning. Finding the means to get your idea off the ground can be the hardest part. My business acumen is something I know others can profit from and I work with individuals and young business owners to bring their ideas to life.
I support and cultivate the next generation of entrepreneurs as they dive into the world of technology. Often, young entrepreneurs have great ideas, but lack the insight and finances to bring these ideas to a reality. I offer seniors in high school and college students grants to help them jumpstart their ideas waiting to become technological breakthroughs. If you have a great idea, but need support to get it off the ground, I'm able to provide the support needed to make that a reality.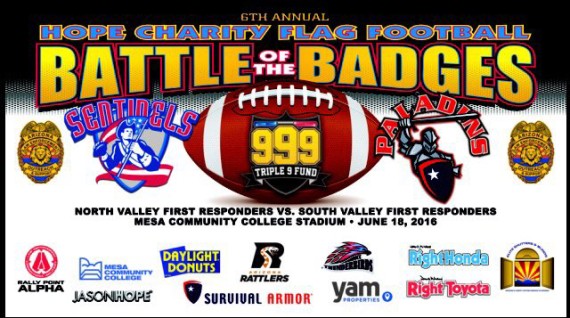 Hope Charity Flag Football Game
Battle of the Badges




Hope Charity Flag Football Game for Injured First Responders




Saturday, June 18th Kickoff at 7pm Mesa Community College Football Stadium




Jim Sharpe KTAR AZ Morning News will be our guest announcer for the game!




This year there have been many First Responders injured while protecting the public. These Police Officers, Firefighters, EMS and Military are a blip on the news and then forgotten while they fight through their injury in order to return to work. Unfortunately, many times there are many unforeseen financial burdens that accumulate while they rehabilitate, which is why we are holding this charity football game.




This game will be played by First Responders for their brother and sister First Responders because "In this Family No One Fights Alone." First Responders from the North Valley (Sentinels) will take on First Responders from the South Valley (Paladins) in a Battle of the Badges.