BMW DriveNow offers a different way of thinking about car sharing
In this era dominated by Silicon Valley giants, the recipe for technological innovation and disruption is fairly well established: someone with an entrepreneurial spirit has a great new idea, and brings it to market in the form of an ultra-lean startup company. Over time, based on how well the idea actually meets the needs of consumers, the innovative new concept may eventually make its way into the mainstream after being acquired by a larger company.
This is usually the way that things are done because big companies have proven themselves to be notoriously unwilling to take a risk on unproven concepts. It makes perfect sense that these companies would want to protect what they've built by continuing to focus on doing the things that helped them become big companies in the first place. As a result, this type of attitude usually leads to big companies being completely reactive rather than proactive, trying to latch on to new ideas after smaller companies have already proved that the ideas have a place in the market.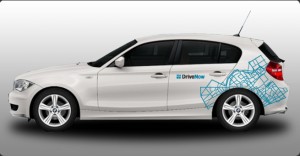 It makes sense from a business perspective. But as a a technology observer, it's kind of disappointing that we never get to see big companies taking risks on ideas that are completely revolutionary.
That's why I was so excited to learn about BMW's car share program DriveNow. Car sharing is a burgeoning new idea that promises to completely change the way we think about personal transportation for the better, but BMW was one of the last names I expected to hear involved with the idea. The company's image is based on selling luxury cars for tens of thousands of dollars, so at first, it's hard to understand how that image jibes with the concept of renting cars out by the minute.
After first unveiling the program in Munich in 2011, BMW has since expanded DriveNow to five German cities and the San Francisco Bay Area. The program operates over 2,350 vehicles, 70 of which make up the all-electric DriveNow fleet in San Francisco.
The idea behind the program excites me, because it shows that a large company is actually willing to listen to changing feelings in the marketplace around personal transportation. BMW has been making automobiles for purchase for many decades now, and while this relatively small car-sharing program obviously doesn't mean that they're going to get out of that space completely, it does at least signal that they're willing to try new things that are outside of their traditional zone of comfort in order to serve their customers better.
As BMW no doubt recognized when they decided to put this program into place, many millennials are starting to rebel against the idea that owning a personal automobile is a necessary part of life. Many of them prefer to use alternative transportation methods, using car-sharing programs to fill in the gaps during the times that they absolutely need to drive a car for some reason.
The program uses a one-way sharing model, meaning that users have the flexibility to drop off a car in any legal parking space once they are done using it. After that, new users will be able to locate nearby cars that are available for them to rent using a mobile app. Once they find a car, they can reserve it using the app, and then simply walk over and rent it using their RFID-equipped DriveNow ID card.
Many small companies have sprung up to fulfill the need by providing drivers with the flexibility that comes from having a car when they need it, without the high monthly payment that would be hard to justify for an extremely light driver. For most people, the names that come to mind when they think about car sharing are startups like ZipCar and RelayRides. However, BMW's program clearly demonstrates that when a large company pays attention to the demographic and social changes behind the car-sharing idea, there's no reason that they can't also fulfill that need in the marketplace.
The company has not announced any plans to expand the program to other cities in America, and the San Francisco program remains relatively small compared to the program the company is running in German markets. However, if the company continues to pay attention to changing demographics, I think this program will continue to grow and represent another useful alternative for private transportation.