Three Hot Apps for Job Hunting and Networking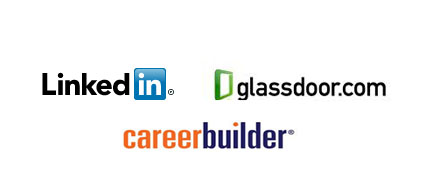 In days past, want ads were the main way of finding a new job. Now, the proliferation of new job hunting and networking apps is changing the way people search for jobs, making them more and more likely to begin their employment searches on their smartphones.
Like so many things that we do as consumers, adding mobility to job searching speeds up the process considerably. Job hunters are almost never without their mobile devices, so it's easy for them to find out about jobs no matter when they're posted, and they no longer have to wait until they're sitting at their desk to apply.
Are you in the process of looking for a new job? Learn about some of these free job hunting and networking apps, and make sure you're using these tools to put yourself in a position to succeed.
Three Hot Apps for Job Hunting and Networking
Glassdoor
LinkedIn
CareerBuilder
1. Glassdoor
Available for iOS and Android devices
What is it?
Glassdoor offers what may be one of the simplest job hunting apps. All it provides is a constant stream of new job postings that might be right for you. It's a perfect fit for people who want access to the latest job postings, without any of the complicated extra stuff that comes along with some job hunting apps.
Unfortunately, its simplicity may also limit its effectiveness somewhat: the app lacks the ability to store a resume within the app, which makes actually applying for jobs a challenge.
How do I use it?
Simply fill in a few search keywords that describe the kind of position you're looking for. Then, specify what geographical area you want the app to search, and it will instantly create a list of positions that you might be interested in. You can also filter the jobs list, making it easier for you to find the needle in the haystack that you're looking for.
The list gets updated frequently over time, ensuring that you always have access to the most recently posted jobs in your area. If you see a job that interests you, you can click on the listing to learn more about the position and the company. If you find a job you want to apply for, you'll typically be required to fill out your application outside of the app.
2. LinkedIn
Available for iOS, Android, and Windows Phone devices
What is it?
The LinkedIn app is a mobile version of the popular professional network. The app provides similar search features to the Glassdoor app, with the added bonus of connecting you to your network and profile information.
How do I use it?
Sign in to the app with your LinkedIn profile. You'll instantly be able to find out what's going on with your network, as well as browse open positions that may be appropriate for you. The recommendations may not always be as accurate as those offered by other apps, and it also seems to lack the ability to eliminate positions based on geography. This means you may find yourself having to sort through job listings from other cities—or even other continents.
On the plus side, the app is great for those users that already have a full LinkedIn profile. They can use the information on their profile as a digital résumé to apply for jobs, making it easier to use than Glassdoor.
3. CareerBuilder
Available for iOS, Android, and Kindle devices
What is it?
The CareerBuilder app provides what may be a happy medium between the bare-bones Glassdoor and the complex LinkedIn. It includes a job search function similar to that of the other two apps, but also gives access to some more sophisticated job search abilities.
How do I use it?
The app offers the ability to upload a resume, and even apply for certain positions in-app, which is a definite plus. If you're someone who is particularly interested in avoiding a long commute, the app can use your phone's GPS capabilities to automatically calculate the drive time between your home and the job location.
Sources: http://www.nytimes.com/2014/01/30/technology/personaltech/taking-the-job-hunt-with-you.html?ref=technology